Our partner Salesloft is a top-rated sales engagement platform helping businesses to forecasting, developing and retaining prospects. This platform is our go-to tool for scaling our prospecting strategy at Saleslift Studio. And here are our 6 favourite features.
1. CADENCES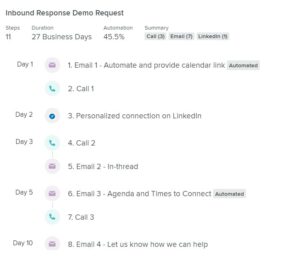 Cadences are a central function of Salesloft and are a repeatable series of steps that shape your sales process, creating a consistent strategy.
Salelsoft gives you the possibility to create your own cadences according to your objectives and sales process, or to customize pre-made models. 
Cadences can be formed of calls, emails, LinkedIn, and other actions to shape a multi-touch and multi-channel outreach approach.
This feature is highly valuable as it allows you to proceed with a defined strategy while avoiding errors or oversights. Like a personal assistant, Salesloft will remind you of your to-do steps for the day.
You can also easily access the results of your cadence, such as open rates of emails, click rates, number of calls made, and more, for you to repeat your success.
2. TEMPLATES
The templates are key to help you scale your outreach strategy. They are pre-made models of emails that you can use in your cadences and outreach emails. These templates can include dynamic fields to help you save time while sending the emails.
Best practices: 
Standardize 80% of your emails' content while personalizing the remaining 20%.

Keep your messaging short: 150 to 250 words top.

Always add a clear call to action.

Send yourself a test email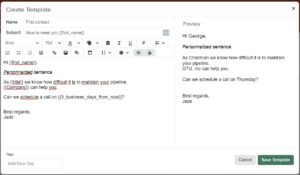 3. BOOKING APPOINTMENTS
Salesloft allows you to give availability time slots in your outreach for more efficient appointment-making. Your calendar is synchronized with Salesloft, so you can access it through without switching platforms.
You have two options to book an apointment with a prospect:
You can decide to let your prospect choose a time slot on your calendar by adding a meeting link. Here your prospect will see the times you are available in your calendar and will choose the one that fits him best. Once they book a time slot, both side will receive a confirmation email.
The second option is to provide your prospect with several time slots for them to choose from. By selecting the times you are available to meet them, you give the possibility to your prospects to choose the time that suits them best among specific dates. Once they book a time slot, both side will receive a confirmation email.
4. LIVE FEED
The Live Feed feature allows you to access all information about your content once it's out there. Salesloft delivers real-time alerts when your prospects interact with your emails, including opening the email, clicking a link, or replying.
This feature gives you an immediate overview of how your campaign is going and allows you to contact a prospect if you notice that they opened your email several times.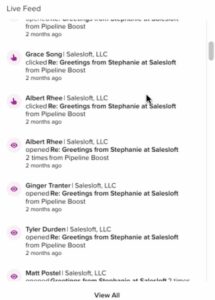 5. CONVERSATION INTELLIGENCE
This feature allows you and your team to record sales meetings. The recordings can later be shared with your organization for follow-up, training purposes, and more. The transcription is automatically generated in your language, allowing you to come back to specific moments of the call to work on your pitch or to improve your hesitations.
6. DIALER
Salesloft's dialer feature enables you to call your prospect without having to switch platforms, improving efficiency and accelerating your sales process. The dialer allows you to record the conversation, take notes during the call, and log sentiments and dispositions about your interlocutor.
OUR OFFER
You probably got it, Salesloft is a must here at Saleslift Studio, and should be for any company doing outbound sales, and wanting to optimize their prospecting strategy, making the whole process smooth and easy to manage.
As Salesloft official partners, our certified experts Jamie and Jade are uniquely positioned to assist you in implementing Salesloft for your company. We can guide you through the entire process:
The set up of your account: we provide you with an onboarding training, implementation process and CRM integration.
The optimization of your strategy: we help you design your outbound and inbound strategy, we offer you SDR with training programs, verified lead lists and quarterly strategy reviews.
Tactical training sessions for cadences optimization, personalization, AB testing and copywriting, best practices and pipeline management.
For more information, register your email below, our experts will contact you!