Business meetings are an integral part of the sales process and are therefore of great business interest. Salespeople usually make a great effort to make business meetings meaningful and productive, provide a constant flow, and eventually close the deal. But what happens next? 
If you want to increase your potential to close a deal with your prospect, it is essential to understand that each step in the sales funnel is important. Having applied the right processes before and during your meeting, your goal is to continue the collaboration by keeping the channels of communication open, also when the meeting is over.
Two of the most powerful tactics that can help you achieve this goal are to stay "In-control" and have a concise Action Plan with the following steps.
Stay "In Control" 
The most successful salespeople take control of the whole sales process and constantly try to be precise and adaptive . But what can you do to apply this tactic? 
The "in control" definition basically boils down to some traits of human psychology; your attitude and your ability to lead and simplify the process. 
Attitude
In fact, If you are willing to stay in control after your meeting, your attitude plays a key role in the way you approach and communicate with your prospects. Naturally, this falls under three categories, passive, assertive, and aggressive. Below are some key phrases that represent each of the categories. Nevertheless, in most cases being assertive is the most beneficial for both you and your prospect.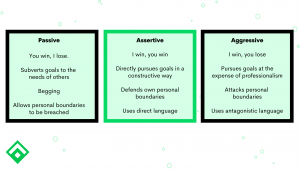 Lead & Simplify 
Another key tactic that will help you to stay "in control" after your business meeting is to take the lead in the process. This is the moment, you should be confident to guide your prospects through the next steps. At the same time, don't forget to simplify the process. In other words, make each step accessible, easy and short. 
Useful Tips 
Add value in the process (Make sure that you add value in every step of the process).

No commitment, no party (equality in the relationship between you and your prospect)

Make them participate (although you are the one who leads, make them also contribute)

"This is how it always works"
Action Plan: "Control after your new business meeting"
The second key step after your business meeting is to follow an action plan. This method is similar to the playbook and each step will help you come closer to your ultimate goal which is to close the deal. Initially, you must create a storyline, use a variety of media, and adapt the steps below to your needs.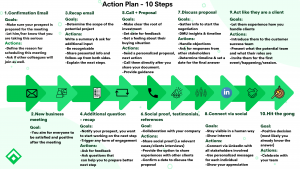 Why do you need an action plan?
-Collect more actionable information 
-Possible higher conversion rate
-Prospects are moving faster through or out the funnel 
-Pipeline is more predictable/accurate
-Greater influence in the decision-making process
To learn more, you can watch the full webinar with Terry van den Bemt and Davy Guijt here.
Good luck!