In these series we interview the people behind Saleslift Studio. Who are they, what kind of work do they do for our customers and what's their view on modern sales? The episode we're talking to Jamie Petterson, Sales Director at Saleslift Studio. Born and based in the UK and running our international team from there. Jamie has years of experience in sales (Expedia, Travelbird) and is therefor a great mentor for our entire team.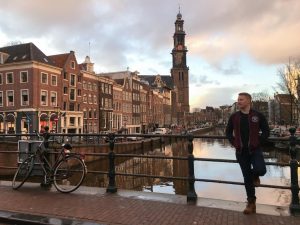 Nice to talk to you Jamie! Tell me something about yourself. What is your background?
I have a vastly varied sales background spanning a number of industries and leaving a number of countries in my wake. I would describe my first foray into sales as a trial by fire. Travelling in Australia after University I had to grab the first job which came my way and ended up in a cut throat call centre within Sydney suburb. I remember vividly having to lie under my desk as the dialler system ran through call after call, pitch after pitch in order for the customer to hear me. Working in such an environment enabled me to not only quickly hone my skills but also appreciate the sales cycle and how to build an instant rapport with the prospect.
Then I managed to merge my passion for sales with a passion for travel, moving to Amsterdam, Vietnam and then Bristol working for a start up, a scale up and the household name Expedia Group where I was a Market Manager for a number of years. 
The variety of company size, location and industry has not only clearly shown me the different challenges faced across the board but also the multiple solutions utlised and applied. 
What exactly do you do at Saleslift Studio?
I am extremely proud and excited about recently being made Director of Sales for Saleslift Studio. I have a wide range of daily tasks but my top priority is simply ensuring that our valued partners are happy. Facilitating them with new business contacts at the right time, person, place and having already pre qualified interest…consistently. I am also responsible for the international team within Saleslift Studio, international referring to all accounts and campaigns that run outside of The Netherlands. 
What kind of clients do you work for?
The exciting thing about Saleslift Studio is that we have a vast variety of partners. From startups to well established household names in a multitude of industries.  Each day is exciting because we get to put a new hat on. Today I'm working for a top advertising firm, tomorrow I shall delve into the work of market research which dives deep into cross-cultural values before following up the day after working for an creative content animation company.
What do you think is the biggest sales challenge we solve for our customers?
We solve a vast array of challenges for partners on a daily basis. From setting up a sales structure, campaign, ensuring ever changing privacy laws are adhered to, training, copywriting, conducting different outreach strategies, stimulating company growth…the list goes on. 
However I think the biggest challenge we solve is being able to do all this with consistency. Time and time again. Delivering value on this steady basis ensures high return on investment and client satisfaction whilst minimising risk.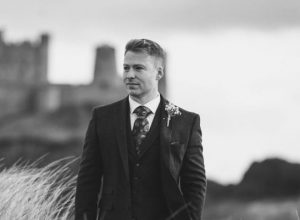 Which trends do you see in the field of modern sales?
During Covid there has been a rapid shift on how sales and especially B2B sales has transformed. No longer can you simply pick up the phone, google a number and deliver a cold call to a prospective client. These numbers are frequently unmanned with your prospect working from their home office (or kitchen table).  This means that there has been a large dynamic change from traditional colder outreach methods to a softer multifaceted approach. Adding multiple intuitive outreach contact moments to sift through the competition and ensure messaging resonates with the correct individual. 
Ever changing technology is also a trend in modern sales. From the evolving Google mail filters which identify and block outreach emails to software designed to mimic human actions to overcome these blockers… keeping up to date is key to success. 
What is it like to work at Saleslift Studio? 
I am a big believer in choosing a company which is right for you. We spend the majority of our lives working so I want to ensure that I'm having fun whilst I do so with a good work life balance.  Saleslift Studio has certainly ticked all these boxes. 
Their drive for success, innovation and to be market leaders is evident whilst at the same time commanding an envious working environment with multiple perks.  This not only means that we as a team are learning and bettering ourselves everyday but also enjoying it whilst it's happening.  
How do you see Saleslift Studio in 5 years? 
The next 5 years are guaranteed to be a very exciting time for Saleslift Studio. We are growing rapidly and evolving each day for the better. We already have an international team with individuals established within the UK and Netherlands but I can envisage multiple offices at key locations throughout the globe delivering sustainable growth worldwide. That is my personal vision and one I am striving towards. 
In addition to this we are already establishing ourselves as innovation leaders within sales technology, did you know we already have an app on the google store? In 5 years I can see Saleslift Studio at the innovative forefront of not only sales software but also sales methods and modern tactics as a whole
Thanks for this interview, Jamie!
Do you want to know more about Saleslift Studio or about the work we do for our customers? Please contact jamie@salesliftstudio.com or davy@salesliftstudio.com